ATTENTION: Overnight you can turn around a sex life that has become routine:
"If you've ever wondered why
some couples merely have 'sex'
while others share deeply fulfilling intimacy
with multiple explosive full-body orgasms,
you're about to experience those secrets."





John Gray, PhD

Make sure you're getting the inspiration that Ellen provides. We have to be inspired, and we have to be reminded again and again... (click play button to hear full quote)


~ John Gray, PhD, Author of
Men are From Mars, Women are From Venus
If you're tired of acting out the same old sexual story...
If you're ready to finally banish the limiting patterns that hold you or your partner back from truly fulfilling sex and intimacy...
...maybe it's time to create a different story--a story of deep intimacy during thrilling lovemaking.
If you truly want to unleash your potential to connect soulfully with your partner through spine-tingling sex, you'll want to read everything below, because what you're about to discover…
…will set you free!


Dear Friend,

Finally, America's top sex therapist pulled down the covers and exposed one of the biggest problems facing couples today.

My friend and colleague, Dr. Lonnie Barbach, is a top psychologist and researcher. She's been the foremost authority on sexuality since 1982.

She recently released her latest findings on what's battling us in the bedroom today. It may surprise you.

"In our teens and twenties, sex was the most important thing in our lives. But from then on, children, career, and other demands push intimacy into the background. The major sexual issue with couples today is that there is simply not enough time."
My name is Ellen Eatough. My research and counseling practice confirms what Dr. Barbach has found.
Couples try hard to keep up with today's daily pace... but they are losing touch with each other. Because in the stress of life at this speed, they don't find enough chances to make each other a priority.
So what used to be their top concern – their intimacy and sex life – goes down the drain. Forgotten. Shoved aside for other "more pressing" matters.
It's not your fault if the magic has started to fade.
Modern living has is a major factor in creating this problem… yet I've found new breakthroughs in today's technology to help my counseling clients and seminar attendees transform their sex lives… in record time.
The results have been dramatic.


"Huge Increase in Desire & Immediate Connection"

All I know is that after I started listening to Ellen's 4 Keys series my sexual desires hugely increased... I found such an immediate connection with my heart and with my lover.

~ Deborah P

And people in my groups and seminars have begged me to put together a course revealing to the public what I've shared in my sessions, because at countless workshops and in work with both individuals and couples, I began hearing reports of breakthroughs – orgasms so powerful they needed to be measured on the Richter scale.

Peoples' sex lives went from ordinary to extraordinary -- literally overnight.
"Over the Top Results...Overnight"

Ellen, as a result of your program our love life, on a scale of 10, went from a 6 to a 26...overnight!

~ Suzanne H., Santa Fe, NM
In the evenings following my workshops, couples couldn't wait to disappear to their rooms.

In the mornings, I couldn't reach the seminar room because I was mobbed by men and women thanking me for showing them the way to the next level where they experienced the most extraordinary sex of their lives.

Paul and Layne Cutright,
Master Relationship
Coaches

...we think ["4 Keys to Sexual Ecstasy"] clearly is the best product out there, and we are
delighted to have something like this to refer to
our people. (click play button to hear full quote)



~ Paul Cutright of PaulAndLayne.com
So if you are ready to "kick it up a notch" and become part of the select group smiling outwardly and glowing inwardly throughout the day, get ready, because I'm...
Introducing "Love Unbound" Music for Lovemaking
with the "Secret Sauce" That Amps Up the Intensity
I've combined our advanced patent-pending brain-based learning techniques with the latest sound engineering technology to create a CD that literally...
Puts Your Passion on Auto Pilot
My "Secret Sauce" is a stealth technology that does more than let you feel romantic music throughout your body. I wish there was some comparison I could make that would give you a feeling for what it does, but there's truly no experience like it.
So be prepared, because …
Your Sex Life Is About To Sizzle
What I am about to share with you is the culmination of years of research so explosively erotic it's going to make the groundbreaking Hite Report on sexuality seem like a nursery rhyme.

These are techniques you didn't learn stealthily listening to Dr. Ruth on the radio when you were a kid.
These include the keys to a new patent-pending technology that will enable you to shed inhibitions and go into uncharted paths of ecstasy.
And this technology is so advanced..
...even a group of expert Panasonic sound engineers tried to reverse-engineer the sound technology...and could not figure out how the music in this CD set creates such powerful effects.

The effects are the result of our trade secrets--our "secret sauce" of resonant frequencies combined with brain wave entrainment.
Star athletes have used these whole-brain learning techniques to get into peak states before intense competitions or "big games."


I have to admit I wasn't prepared for the results I got when I combined brain entrainment with the resonant frequencies specially encoded into the music on my "Love Unbound" music for lovemaking CD.
And that's just a small appetizer with the main course still to come. The four CDs in this 4 Keys to Sexual Ecstasy package reveal couple-tested techniques recommended by cutting-edge therapists with access to this information.
Yet it was my study of brain-based learning that took all of my teachings and put them on auto-pilot. You see, 4 Keys to Sexual Ecstasy is the first time "resonant frequencies" combined with "brain entrainment" have been used to enrich people's sex lives.
It actually led to…
Automatic Intimacy
Until the release of 4 Keys to Sexual Ecstasy only drips of this information ever had a chance of making it to the general public. But at last, you can share in the latest ground-breaking discoveries that are expanding passion, romance, and intimacy for couples "in the know" around the world.
And now, you can satisfy your own deepest yearnings and cravings by finally discovering...
The Hottest Sex of Your Life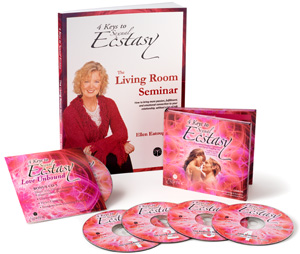 4 Keys to Sexual Ecstasy consists of four special CDs that deliver the same scorching content sending sexual contentment to new peak experiences each time you desire to connect with your partner.
The first two CDs are called "The Living Room Seminar." It's the same explicit nothing-held-back information I share in my exclusive counseling sessions or private seminars.

I walk you step-by-step through the secrets of sexual ecstasy no one ever shared with you.
Together we'll focus on how passionate sex can improve even relationships that are having difficulties.
We'll walk through Four Keys to creating Sexual Ecstasy and end turning up the passion in your life leading to more thrilling sexual experiences and deeper fulfillment than you ever dreamed possible.
"Relationship Transformed "

What I didn't anticipate was that Ellen's "Living Room Seminar" (CDs 1 & 2) was exactly what we needed. We never realized our intimacy issues were rooted in our inability to talk about sex, to really talk about it. Ellen's CDs created an environment for conversation, which embodied trust, openness, and desire.
Our sex has been amazing. I thought it was good before, but now I've experienced lovemaking with the element of deep, entrancing connection.
Our relationship has been transformed into something beautiful we never expected.

~ Suzie S, age 27, Santa Rosa, CA
And All That Is Just On The First CD!
The temperature in the room gets positively steamy as we move on the second part of the Living Room Seminar.
I'll show you how to expand orgasmic potentials for the woman in your life.
Then, unless you've been a serious student of Tantra, you'll discover massive new orgasmic potentials for the man in your life.
Yes, guys, I'll show you how to last longer and experience full-body orgasms!
And if the potentials of that new skill don't put a grin on your face, you just don't realize that you and your partner can now have…
More Passion, More Intimacy, And
A Greater Connection
I'll show you how your breath can be as important to your sexual pleasure as the latest sex toys. Most people have never learned these secrets. But you'll be on the path to endless pleasure when you've mastered this simple technique.
Even kissing will never be the same when you master the techniques I'll share. Kind of makes me feel like a teenager again.
There's nothing held back here when we discuss body movement and thrusting patterns. You'll finally understand what your partner was never able to explain to you. And you'll know how to take it to the next level.
And there's lots more…
Let's Go To The Bedroom
Slip CD #3 into your bedroom stereo when you are together with your lover (or even if you are by yourself). And get ready to go from laid back to explosive in one evening.
CD #3 is known as "The Bedroom Seminar," and it's unlike any seminar you've even attended

With you and your partner ready, I direct you step-by-step on how to experience the most explosive sex of your life. But you've got to follow the directions without cheating. Because in the game of sex, the one who finishes first is missing out on the main event!
Now I promise you – in fact I guarantee you – if you and your partner will follow the script I'll guide you through in "The Bedroom Seminar", you'll wonder why you never discovered these secrets sooner.
"Husband Felt Overwhelmed with Love"


Once we 'got into it' [CD#3], as I looked into Marissa's eyes…I got sort of choked up. Suddenly my heart swelled up, and I felt overwhelmed with love for her like I hadn't felt since we stood facing each other at the alter at our wedding 13 years before.

The whole experience was amazing! She really opened up and became a more deeply erotic and responsive woman than I'd ever seen. I realized it hadn't been my fault that our sex life had been stultified all these years.

~ Jake L., Arlington, VA
And if you aren't convinced by now to take these CDs for a "test drive" it gets even better…
Let CD 4 Take You Higher and Higher
This is where even the die-hard skeptics become believers when the Secret Sauce technology starts to spin its magic. All it takes is making love with "Love Unbound" on softly in the background.
Once you turn on this CD just watch out. Just lay back and watch your little kitten turn into a raging and ravenous tiger.

By the next morning, you'll both be giggling like school kids and making passes at each other. And your frisky behavior isn't the only thing that changes.
The technology included on this CD is your key to the deepest relationships and most passionate sex of your life.
All I ask is you give these CDs a fair try. If you do, you'll probably become one of my raving fans telling me how your life has changed.
Too Hot to Drive!
We discovered that CD 4 is so mood altering that we couldn't imagine letting people drive while listening to it (Besides, it belongs in the bedroom!)
| | |
| --- | --- |
| So we created a Bonus CD 5 with the same music as CD4, "Love Unbound," but with a slightly different combination of resonant frequencies to support mental alertness for everyday activities. With CD 5 you'll continue to release self-limiting patterns so you can be more present and respond to the situation at hand with greater clarity and spontaneity. You'll feel uplifted and experience heart opening while you enjoy the music anytime. | |
Video Case Studies
"Helped me open myself and all that I am
to the intimacy I've longed for."

"Nothing else has truly activated within me what the '4 Keys' has done.
I've come to cherish my partner in ways I never have with any man.
Based on the results so far, I would call them transformative."
Adam's love life was already great, and it got better.

With "4 Keys to Sexual Ecstasy" he discovered he and his girlfriend could
make love for a much longer time and
connect more passionately on a much deeper level. They also experienced
"very profound emotional and sexual opening" towards each other.
With these real-life case studies in mind, prepare to experience…
The Most Extraordinary Sex of Your Life
Now, if you'll just say "yes", I'll send you (with total privacy) the secrets and step-by-step techniques that allow both men and women to...
...experience multiple full body orgasms guaranteeing you nights of endless passion
...move into the little-known realm where physical ecstasy melts into profound intimacy and spiritual bliss
...create endless waves of pleasure for their partner lasting for hours (or even all night if you choose)
And I'll include in your package what I call the "secret sauce" an exclusive program that will deliver the best sex in your life even if...

Your and your partner's sex life has gone dull and routine

You or your partner has inhibitions keeping your from getting to the next level

You and your partner have been arguing and neither of you is particularly in the mood.
Now I'd like to caution you before you proceed further--my language in this letter is going to be extremely sexual in nature because my program is absolutely explicit. It's the only way I can promise you it's possible for you to have...
An Over-The-Top Orgasm Every Time You Make Love
The instructions I give in my program are designed for...

Ordinary couples who want to take their lovemaking to a new dimension

Partners who have grown familiar and bored with old routines who want to restore teenage energy and passion in their lives. (Remember when sex was the only thing on your mind...)

People who go through their entire lives wondering and fantasizing about what really great sex is.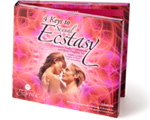 That's why it is so vital as many people as possible experience the transformational material included in this program. This material includes explicit step-by-step instructions delivered to you using cutting-edge brain-based technology for...

Igniting A Sexual Fire That Will Burn Forever!
The journey of discovery you and your partner are about to embark upon is all about obtaining maximum pleasure in minimum time--just one evening and you'll be grinning like you just dropped a quarter in the slot machine and it paid you a million dollars in return.
And through my ground-breaking program...
You Achieve Sexual Breakthroughs
"Multiple Orgasms for the First Time"

I've never had multiple orgasms in my life, and to have even one usually takes about a half hour of focused help from my husband of eight years. That all changed when we played "Love Unbound" during lovemaking for the first time. My first powerful orgasm came so much more easily, and with much less help from him, than usual. Then I had more orgasms! I was floating on air with a big grin on my face for days!

~ Christine N, Vancouver, BC
With step-by-step directions, you'll discover...

How to work with your partner's sexual energy flow. This secret – completely unknown to Masters and Johnson (the famous pioneering researchers of human sexual response in the 1950s to '70s) – shows you how to magnetize your partner so they'll cling to you long after you've completed making love. The failure to understand the secrets of the flow can lead to tension or even outright rebellion in the bedroom.

The three words a woman can send in an email that will make your man want to drop everything and race home for sex... just be ready for the explosion of excitement bound to follow. And each time you send this email, it builds on the previous passionate experience until you are the only thing on his mind.

Secrets to bring your woman to her sexual boiling point. And once she's there, she'll simmer for hours in hyper-erotic bliss. And you'll be able to match her orgasm for orgasm.

Women: The exact ways to move sexual energy through your guy's body so the orgasm moves from his genitals throughout his entire body. Just follow the directions and you can caress his body so his sexuality will radiate from every pore of his being.

Men: Once you understand this subtle trick about cultivating female sexual energy, you'll know how to stoke the flames and...
Transform Even A Shy Woman Into a Sexual Tigress
Your lives will transform as you begin to apply these learnings in the bedroom including...

How to make regular deposits into your partner's sexual bank account. (And these deposits will pay you more interest than any bank.) It defies logic but small deposits may pay larger dividends than larger ones.

How to guarantee your guy will be sexually responsive at your beck and call. You'll experience the same kind of sexual power as Helen of Troy and Cleopatra of Egypt. Look forward to sensuous evenings with romance leading to climax.

What most women don't know about a secret sexual trigger spot on your partner's body. Just fire this trigger as he builds to a peak and he'll have the most powerful orgasm of his life. And he'll be forever grateful because you made it happen.

Partner not interested? I've got a definite solution so powerful it could get a rise out of a person completely repressed and holding back. Your partner will be hot on your trail to ravish you with kisses...and beyond.

The single most misunderstood concept guys have about ejaculation keeping them from...
Making Love All Night Long!
If you've been wondering "where did the magic go?" I'll show you...
How to help a woman get out of her head and into her sexuality (and she'll be so appreciative of you for helping her go there).

Why hitting her hot button may be the worst thing you can do. And I'll show you what to do instead that's so powerful you better have a story ready for the neighbors explaining why your partner is screaming.

How to turn your sexual partner into your soul mate. It's something simple most people turn away from doing that is so powerful and intimate it can be overwhelming. And even though it has nothing to do with sex, once you add it to your lovemaking you'll take your bond to a spiritual dimension.

The most powerful technique from the world of Tantra to get you "in sync" with your partner before, during, and after you make love. And you can trigger this feeling any time you choose!

Why ignoring the sexual hotspots may just be what your relationship needs. I'll show you what to do instead so your partner will want to climb to the ceiling while you both...
Enjoy Sheer Ecstasy.
Most of us had repressed sexual educations and we communicate more about taking out the garbage than stoking the passion.
That's why I help you go beyond words to discover the powerful non-verbal cues most of us miss. (Communications research reveals 80% of our dialogue is non-verbal.) I'll show you how to read what you've been missing in the bedroom.
And you and your partner may experience the sense of liberation and transcendence you've been seeking your entire life.
Under my guidance, you'll discover the...
One Thing Most Women (and Men) Have Been Missing...
Their Entire Lives
Here's more of the excitement in store for both of you...

You need to understand the secret that turns off men and turns on women. Yet not one couple in a thousand knows this ... and sex therapists and marriage counselors never quite get to this volcano lurking beneath the surface.

How to harness the power of a G-spot orgasm. I don't mince words, I'll show you exactly how to get there and one thing you've probably never thought of that will get you to new levels of pleasure in a hurry.

Remember when kissing was more than a peck on the cheek. I'll show you eleven different kinds of kissing you've probably never experienced.
Imagine all of these combining with the resonant frequencies and brain wave entrainment CD, and you have irresistible and...
Instant Turn-Ons
Maybe Danny N. can give you an idea of its effects:
"My wife usually takes quite a while to warm up to any sexual escapades... just having these CD's running in our living room however, and in less than 15 minutes she was tugging on me with desire."
Or Joan, from Sacramento, CA:
"My partner says the music gets me out of my head. He's right, as soon as the music starts playing, thoughts seem to evaporate and I drop down into my body. It makes me feel so sensuous and excited! And it intensifies the whole experience, physically, as well as the feelings of intimacy and being deeply connected."

While this technology stirs up your erotic energy and enhances your sensual perception...
...it frees you and your partner from agendas and starts to break up old patterns that hold you back from bliss,
...and it works to free you from your inhibitions and open up your life to new levels of passion in your lovemaking.
Here is a little more of the feedback people submitted after just listening to these special recordings...
"Multiple Orgasms"

My girlfriend never has more than one orgasm in a night, so I decided to try the special lovemaking music from 4 Keys to Sexual Ecstasy. We made love, and she had her single 'O.' THEN I said, 'The night is young,' and started playing the music. She proceeded to have three more orgasms. When she finally became coherent again, she asked, 'What's in that music?'

~ Joe, Boca Raton, FL
"Wife Transforms Into a Horny New Lover"

Before using '4 Keys to Sexual Ecstasy,' my wife was not usually very interested in sex. We would actually put it on the calendar, so she'd make the time to do it once in a while. I started playing the CD 4 music one day (not a day scheduled for sex), and she actually got horny! She got very sensuous and was slinking up against me... totally new behavior for her. When we later played the music during lovemaking, she really opened up; it was like she became a totally new lover.

~ Grateful in Seattle, George F.
"Greater Spontaneity & More Variety During Sex"

We've made love listening to 'Love Unbound,' at least a dozen times now, and we immediately started having more variety in our sexual encounters. I never know how we're going to start or finish. Seems there're no expectations or routines to fall back on anymore. It must be those patterns breaking up, like you say. Sex has become more spontaneous and unpredictable, which makes it more exciting!

~ Paul E, Santa Barbara, CA
"Greater Desire & Enjoy Sex More"

Since menopause I have experienced a diminished libido with less interest in sex. It has caused me to hold back a little sexually, like many of us probably do. When my partner and I first made love listening to the music on CD 4, it seemed like new places opened up within me, and I felt, 'I can go there.'

The next time my boyfriend played the music, I noticed it helps me get out of my head and into my body. It actually intensifies my sensory perception, and I enjoy sex more. What you're doing for people with this program is so important!

~ Teresa Black, MD., San Rafael, CA
"Spiritual Heights & Deep Ecstasy"

My wife and I have reached higher spiritual heights than we ever thought possible...the 'Secret Sauce' works...And multiple orgasms are just the start.

~ John R.

As a couple we enjoy lovemaking already very deeply and Ellen's help through this series catapulted us into such bliss and deep ecstasy that words pale to express.

~ Laura C.

I found it hard to believe that a CD series could stimulate me into any kind of ecstatic feeling state but... 'It does' and I am now enjoying going way beyond my own ideas of what I thought enjoyable loving was all about.

~ Angela W., Philadelphia

And It Gets Even Better!
Once you are on board the passion express, we're going to hook up on three coaching conference calls where you and I can connect and help you take your lovemaking to the next level.
We'll have three group coaching calls, when I'll give you even more in-depth info. You can listen and ask me questions on the phone or over the internet. And the replays will be available to you online and as a download, so you don't have to worry about missing a call or being called away during a part you'd like to review.

Here's What You Get When You Order
Let's wrap this up and tell you exactly what you are going to get when you order:
| | |
| --- | --- |
| | 1. 4 Keys to Sexual Ecstasy (four CDs in Digipak; 4 hours, 46 min) |
| | 2. The Living Room Seminar book (110 pages) |
| | 3. Bonus CD 5 (to release patterns and enjoy the music anytime, anywhere; 60 minutes) |
| | |
| --- | --- |
| | 4. Three (3) one-hour 4 Keys group coaching calls (In addition to answering customer questions, during these calls, I give you a lot of additional information re sexual anatomy and technique, some with pictures.) |

SPECIAL BONUSES


And because I Want You To Enhance Your Love Life in Even More Ways,
You'll Also Get
These special bonuses...
---
BONUS #1:
"7 Keys to Get Her Out of Her Head" (A Woman-to-Woman Conversation)


(one-hour MP3 audio)
Karen Brody, an extraordinary relationship coach for men, interviews me about a common challenge for both mena nd women: How to help a woman get out of her head and into her body and sensuality for lovemaking.

BONUS #2:
"How to Close the Gap in Masculine and Feminine Arousal Rates"

(one-hour Mp3 audio)
This is my special radio-broadcasted seminar, which includes how to help a man last longer and enhance orgasms for both partners.
You save hundreds of dollars by ordering now.
Most of my workshops cost over $1,000 per couple to attend. On top of that, most people have to spend hundreds of dollars for airfare and lodging. But you get the same benefits as those who have spent over $1,500 for just...$297. You can pay in three monthly payments or all at once.


And you have the added benefit of being able to listen to this (by yourself or with your partner) again and again in total privacy.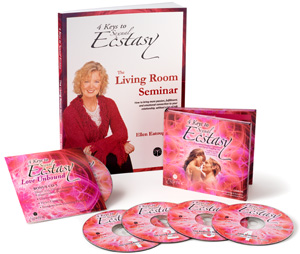 With the same time and money you could easily spend on one big night "out on the town," you can transform your love life-permanently. And this is just the beginning. The more you use this system, the more you will experience soulful connection and spine-tingling sex.
With full precautions for your privacy, we'll rush your package to you in a shiny red bubble envelope (makes a great gift).
YOU CAN GET STARTED IMMEDIATELY.
As soon as you complete your purchase,
you will immediately receive access to the digital version to download or play online.
Hard Copy Shipped + Digital
One payment of $497 $297
or 3 easy payments of $177 $106

OR
Digital Version Only
One payment of $447 $257
or 3 easy payments of $157 $89
(Multiple payments will be billed 30 days apart.)
Full Money-Back
Guarantee For 60 Days
I'm so confident you'll experience the extraordinary value of 4 Keys to Sexual Ecstasy many times over that I'm going to give you a full 60-day money-back satisfaction guarantee! Of course, you have to experience it to transform your love life. So I want to give you plenty of time to try it out. If you want to return it, simply send it back for a full refund of the purchase price (less the initial shipping and handling fee) any time for any reason, for a full 60 days. (But you won't want to, because you'll recognize how priceless this lovemaking enhancement system is.)


(We also accept Discover Card and Diners Club)

Okay Ellen, Turn Up The Passion In My Life
It's A Sweet Deal
That's Why So Many Couples Around The World
Are Taking Me At My Word!
Why? Because I believe once you experience everything in store for you on 4 Keys To Sexual Ecstasy your life will change.
And believe me, your friends and neighbors will notice.
And when they ask you about the new passionate and romantic couple they are seeing, it's only fair you'd tell them about my CD set.
So if you are finally ready to take your sex life to the next step… Gentlemen (and Ladies) Start Your Engines!
Ellen, Show Me The 4 Keys I've Been Missing!

Now it doesn't matter how old you are (or how young you are.) I can't make time go backwards, but where was this material for the first half of my life?
It doesn't matter if you're married, dating, or seriously single, 4 Keys to Sexual Ecstasy will change your life – guaranteed.
I honestly believe these CDs are going to transform your lovemaking and your love life.
So please... I invite you to try 4 Keys to Sexual Ecstasy. You and your partner will be glad you did.
Sincerely,

Ellen L. Eatough, MA
"The Soulful Sex Coach"

P.S. I've been getting some feedback that perhaps CD #4, Love Unbound, is too powerful for general distribution. Of course, I've been hearing this from people with huge smiles on their faces begging me for more of these amazing CDs. So I ask you, the very next time you make love, have Love Unbound playing in the background.
And that will seal the deal. Don't listen to it like a CD in your car or your kitchen. Listen to it in the bedroom.
And be careful, the sparks of passion may set your love life on fire!
Ellen, I Want More Romance,
More Passion And Better Sex In My Life!
© 2008-2017 Extatica, Inc. All Rights Reserved.

Extatica, Inc.
775 East Blithedale Ave. #524
Mill Valley, CA 94941